One Look at The Spa House in Cape Town Will Have You Pulling Out Your Credit Card
Jun. 4th, 2014 | Comments 0 | Make a Comment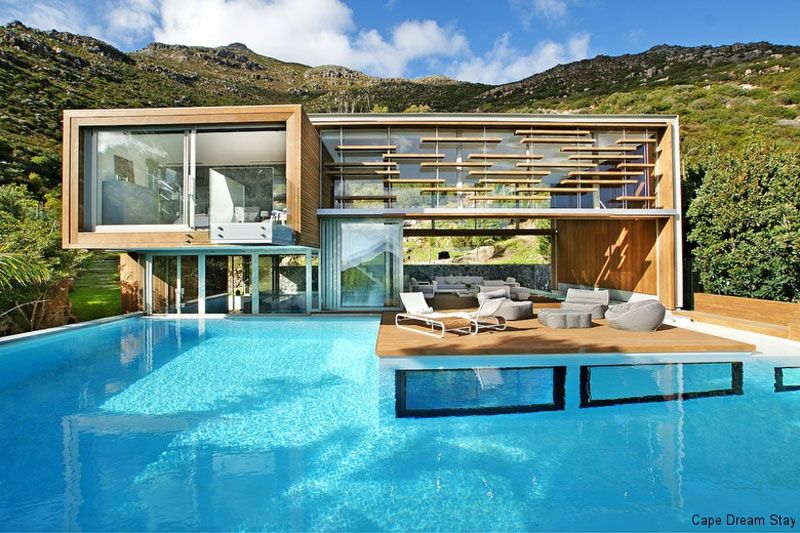 Photos Courtesy of Cape Dream Stay
There's renting a villa for your South African vacation, and then there's really renting a villa. Let me be more clear. You could stay at any 'ole private residence in Cape Town while visiting or you could book the kind of place that will make your friends jealous for years to come.
The three-bedroom Spa House is one such destination located at the end of a cul de sac in Hout Bay. Grand open spaces fill the rooms with natural light and the floor-to-ceiling windows make for spectacular views of the countryside. The home was also awarded a CIA Award for Architecture and was named Winner Of Best Design 2011.
This elegant home features not one but two swimming pools (one just for children), a heated indoor Jacuzzi, large patio, kitchenette, an entertainment room and underwater spa facilities with a sauna, salt bath, steam room and massage area.
Probably one of the most alluring parts of the home is its large patio and infinity pool which is perfect for entertaining. (Not to mention jealousy-inducing). Each part of the villa was stylishly designed and comes with modern conveniences to make sure guests feel at home while traveling. High-quality imported woods dress the floors in the public spaces while lavish marble is set in the bedrooms.
While dates and rates aren't readily available on the site, interested parties can submit a request form to find out more information. Since most of you probably already skipped ahead to the pictures anyway, you're probably already booking The Spa House at this moment. (It's ok, we don't blame you).