Leading Piano restoration firm Piano Solutions XXI. This is their newest unique luxurious range of customized pianos. The exotic item in question is a million dollar Faberge inspired stunning showpiece, christened "The New York Serenade". The innovative design for the piano sports the antique look and style of the early 20th century.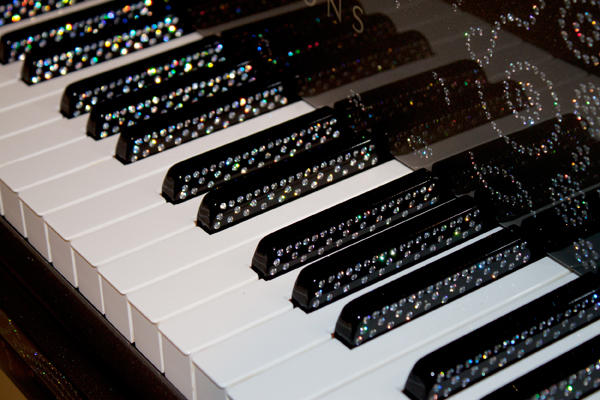 The Korolev- Katherine duo handset and re-laid each and every one of the 1,64,000 beautifully crafted stones of the piano under a glass like polyester finish to ensure that the intricate artwork is preserved for future generations. The stunning piano has one extra attachment which included a matching bench adorned with 7,500 gemstones. To achieve a beautiful glowing effect the designer piece has been decorated with lab-made diamonds throughout its body.
Another feature of this eye catching multi-dimensional design has been the popular New York skyline on its lid with the sparkling moon. Reportedly the whole design has been created in such a manner that it reflects the traditional spirit of the 1920′s era when both jazz and the American dream were capturing the imagination of millions of people around the world.
Its beauty has been enhanced manifold with over 1,64,000 superior quality cubic zirconia stones adorning it. The instrument exemplifies both luxury and the refined style of present custom made pianos.The piano features the technical modalities to play music from any wireless source including an iPad mini.