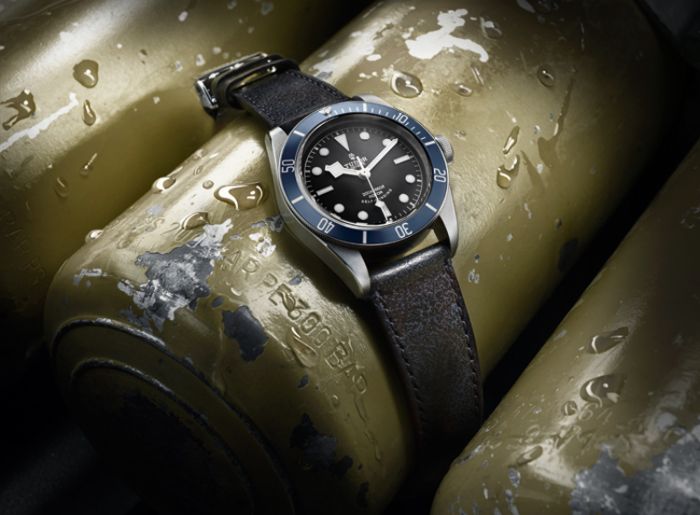 Today Tudor is announcing the release of their new Tudor Heritage Black Bay watch. The second edition of the Black Bay timepieces, this new luxury watch pays homage to the brand's predecessors through form, aesthetics and function—a complete reinterpretation of the 2012 version. Released just in time for Baselworld, the Black Bay is a diver's watch—modeled after Tudor's submariner pieces used by divers and navies the world over.
Designed in the style of Tudor's heritage watches, the new timepiece is a collection of the creative inspiration, innovation and detail over the past 60 years. A tribute to this history, iconic features have remained in the detailing while the overall aesthetic has been given an updated, modern style. Its domed dial and simplistic lines were inspired by the Tudor submariner piece, first launched in 1954. Referencing the 1958 "Big Crown" watch, the new Black Bay also features a larger winding crown, while the large angular hands were modeled after the clockwork seen from the late '60s to the early '80s.
While the original Tudor Heritage Black Bay timepiece was more of an antique visually—with its black-chocolate dial, rose gold hands and burgundy bezel—the new watch only references this nostalgia for the past through form and shape. Pulling craftsmanship and aesthetics from previous Tudor pieces, the second edition is quite modern with clean lines, dark and metallic colors, and bright luminescence.
The Tudor Heritage Black Bay features a 41 mm steel case in a polished, satin finish surrounded by a unidirectional rotatable steel bezel in a matte, midnight blue. With a power reserve of 38 hours, the piece uses a self-winding mechanical movement—a Tudor caliber 2824. The winding crown is steel, engraved with the Tudor rose detailing; the piece uses domed sapphire crystal and is waterproof up to 220 meters. The strap is available in steel, aged leather or a simple fabric that is supplied with the watch.
For more stunning watches, go to
Capelux.com
– Africa's Largest Online Luxury Platform