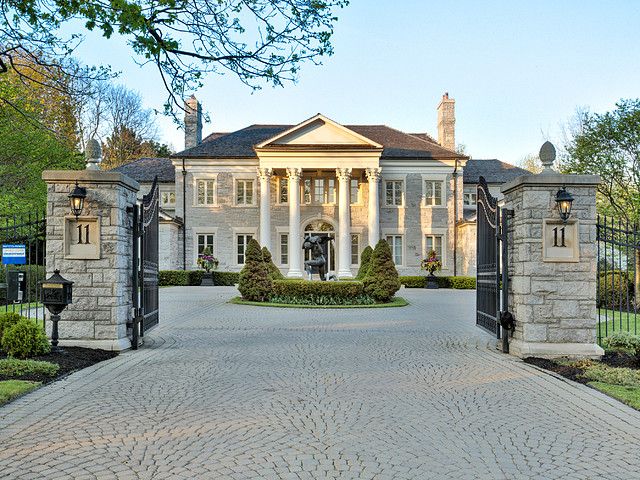 In the coolest real estate news of the week, Regina George's $14.8 million home has hit the market courtesy of Sotheby's International Realty. Located in Toronto, the 20,000-square-foot property was infamously home to the Mean Girls Queen Bee—you know, the girl John Stamos thought was pretty. You may remember spotting the mansion when Regina (played by Rachel McAdams) invited new girl Cady Heron (Lindsay Lohan) over after school—it's also when we met Amy Poehler as the eternal "cool mom."
Jokes aside, the two-acre NeoClassical stone estate really is stunning. Symmetrical beyond belief, the home is incredibly balanced aesthetically, with a two-story grand entrance boasting Italian marble and a double staircase with a Juliette balcony in between. Considering there are 20-foot cathedral ceilings in the foyer and 10-foot ceilings in the rest of the home, we can't imagine it being on the market for very long.
With 11 bedrooms—including the master bedroom Regina kicked her parents out of, because she clearly deserved the larger one—and 12 bathrooms, it's the perfect place for Hump Day treats, "cool mom" gatherings and hiding your Burn Book. Plus, four of the bedrooms get their very own wing on the second floor, offering privacy and marble en suite bathrooms, and one of them is actually a loft found on the third floor. On site is also a wine cellar, pool, spa, tennis courts, and a separate coach house for visitors or staff.
We can't help but wonder who's going to end up calling this property their home, and if it's you Glen Coco, then all we have to say is, "You go Glen Coco!"