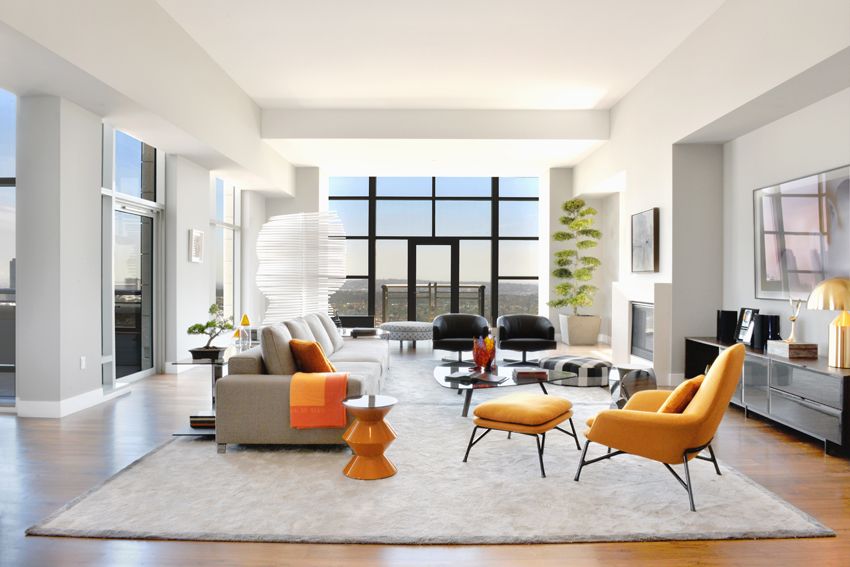 The Carlyle Residences and its developer, the Elad Group, recently unveiled their new $9.9-million Minotti Penthouse on the 23rd floor of The Carlyle in Los Angeles. As the building's last penthouse, the luxury home comes fully furnished and packed full of Minotti furniture, décor and curated artwork (collectively worth over $1 million). If what's in these images isn't for you, you can buy the residence without any of the frills for $8.8 million instead — we don't recommend it, because at these prices, what's another million?
"We are thrilled to be partnering with Minotti at The Carlyle," said Samantha Sax, Executive Vice President of Marketing and Sales for Elad Group. "The accelerated movement of our model residences contributed to our success in 2013 of over $80 million in sales and we anticipate continued momentum.  In fact, we are already receiving promising interest in the Minotti residence and are looking forward to a continued positive response from buyers now that the Minotti Penthouse has been officially unveiled."
The 5,283-square-foot penthouse offers unobstructed views of Bel Air, the Hollywood Hills, the Pacific Ocean, and downtown from floor-to-ceiling windows in rooms with 13-foot ceilings. There are three bedrooms, four and a half baths, a formal living and dining room, library with an adjacent study, family room, and a balcony or terrace off of every building exposure.
If you choose to buy it furnished (and you should), the penthouse comes with hand-picked contemporary furniture pieces, lighting and accessories like the Prince Chair and ottoman in the living room, and the master bedroom's Ioegio copper bench by Mauro Mori.
Other residences in the Minotti Los Angeles range from two- to three-bedrooms and start at $2.5 million.